SAP Upgrade & Migration
Market dynamics changes over night with the introduction of new business laws and govt legislations. Further with the innovation of new technologies, newer and powerful versions of SAP systems are continuously developed and launched in the market. Hence, technical upgrade of the existing system must be undertaken whenever a major newer version is made available. Further, you can also stop worrying about the deadlock on support for older versions and legacy systems once you keep yourself upgraded with the latest version and technology of the product offering.
SAP needs to be updated regularly with the technological changes taking place. Customers are challenged to implement new solutions by upgrading their platforms with new features and functionalities. The success of any IT transformation task, whether Consolidation, Rationalization, Application or Database replacement depends on the success and usability of the resulting systems. This needs successful and seamless migration of source data.
How Infocus can help you ?
Our Migration and upgrade services cater to the enterprise's requirement to move to new releases or new technology. Upgrade or Migration services is a complex activity and needs thorough planning and professional project execution. Infocus ensures that the customers face least downtime, a smooth transition and successful upgrade / migration so that the existing SAP system remains intact. Our Upgrade and Migration Services ensure a fast, smooth transition process thereby minimizing risk and downtime which will maximize your business benefits. Our consultants work closely with you to manage all aspects of the SAP system upgrades and migration from planning and start-up, through functional development activities to Go-live and support.
SAP HANA migration and its impact-
Upgrading to SAP S/4HANA provides you to transform your organization into a real-time business, you will be able to capture new opportunities, speedy innovation and streamline your operations for a healthier end result. HANA is not just about speed, and that's important to understand. HANA is also about new functionality. HANA is designed to run standard SAP processes, meaning processes that have been implemented and are running exactly like SAP designed them. In such a case, a given process can run significantly faster, even 10x.
Migration to SAP HANA can deliver greater agility, enabling a company to respond faster to market changes and business events.
It can be executed into four stages:
Preparation
Migration
Steps after migration
Optimization
Migration Journey for an existing client of SAP Business Suite: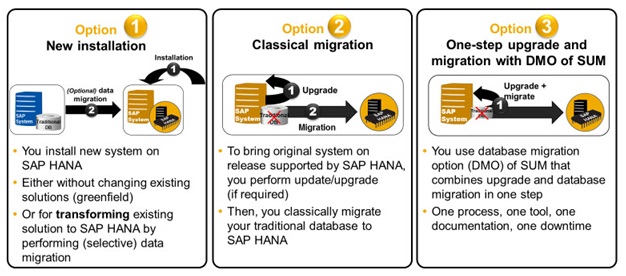 ( Above diagram taken from SAP documentations)
The readiness of IT team in utilization of HANA
SAP HANA is about more than improving performance – it's about modernizing your Business Intelligence platform. Imagine enabling real-time functionality to analytics, business applications and data services and delivering business relevant views never before possible. But how to start this?
Steps for a successful migration to SAP HANA include:
1. Develop a Business Case
2. Conduct an Assessment
3. Plot out the Process
4. Execute the Migration
5. Ensure Long Term Success
You have to understand SAP HANA readiness of your environment. INFOCUS will perform the following stages for the organizations for HANA migration.
A. Technical Assessment- Regardless of disparate systems, processes or source data, our team provides you with a defined view of your current landscape - the potential risks and challenges you face if you introduce SAP HANA into your current environment, and a complete 'next steps' plan to guide you through the implementation. This will involve :
Functional Upgrade: Strategic exercise to review current business process and potentially implementing the new one to ensure value returns of the new version functionality
B. Solution Assessment –In the next stage our HANA implementation team works closely with your IT staff, digging deeper into your Business Intelligence infrastructure in order to create a solution blueprint with a high level outline of business and technology requirements, as well as a larger view of the proposed solution architecture. This will involve :
C. Technical Upgrade: Spanning operating systems, databases and all advanced business application programs (ABAP), including reports, function module pools, interfaces and other custom objects.
System Migration: Migrating to SAP S/4HANA environment from source to target and testing to ensure the project has minimal impact on the business
Platform Migration: A mix of standard and high availability services
D. Implementation Services- Our HANA experts begin the complete end-to-end services for implementing SAP HANA into your environment. Diving down into the technical aspects of your project including integrating with your current infrastructure, defining business and data integration requirements, modeling and loading HANA data structures and building out your front-end solution.
So why do you wait?
Please contact Infocus team as your trusted advisor to guide you in S4/HANA migration.
Email us at sales@infocus-in.com for engaging with you.