SAP Supplier Relationship Management / Ariba Procurement Solutions
The Global Trends has had a huge impact on the Procurement line of Business. It has resulted in greater opportunities, faster and more effective collaboration at a much lower costs. Likewise in the networked economy, with the advent of Big Data it has improved business insights with the incorporation of SAP HANA Platform & in-memory computing, predictive analysis as well as network intelligence.
Focusing on risk has turned out one of the key aspects with attention being given to the likes of supply chain disruptions, financial risk and fraud & commodity risks. Cloud computing, mobility, leveraging data for decisions & incorporation of new business models has resulted increase of productivity. With the changing environment there has also been a considerable amount of pressure on determining the cost to serve, to decrease budgets and to ultimately evaluate the profitability by segments.
SAP and Ariba delivers a comprehensive Integrated Procurement Portfolio to Collaborate Seamlessly
Procurement Excellence
Supplier Discovery and lifecycle management
Discover and develop suppliers
Strategic sourcing and contracting
Source better and increase savings
Procurement and order collaboration
Reduce contractual risk
Collaborative invoice to pay
Lower operating costs
Drive compliant spending
Collaborate for greater success
Key Modules:
Spend Analysis
Sourcing
Contract Management
Operational Procurement
Invoice Management
Supplier Information and Performance Management
Mobile Procurement
Supplier Collaboration
Flexible deployment Options: On-Premise and Cloud Solutions addressing all your needs: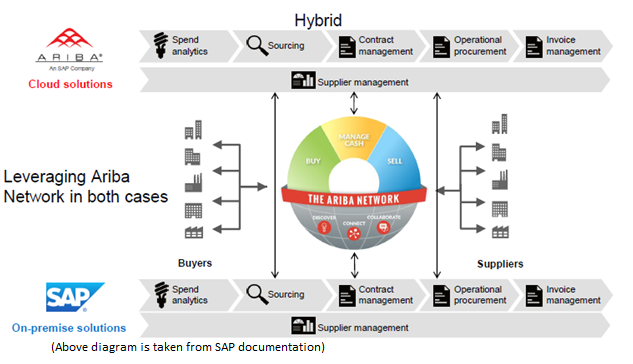 Delivering Optimized Contract Lifecycle Management
Improved Contract Management- Improved contract compliance, timely renewals management, and visibility to performance information
Effective Contract Creation - Tighter controls and minimized legal risk
Full Contract Visibility - Single repository for contracts, elimination of redundant contracts, visibility into commitments, and the ability to track regulatory compliance and understand contract history
Streamlined Negotiation Processes - Streamlined and controlled processes, abbreviated negotiation and approval cycles, and inclusion of the right stakeholders
Rapid Time-to-Value - Enables strong user adoption, delivers rapid on-demand deployment, and provides process and data integration
SAP Collaborative Sourcing and Contract Management Solutions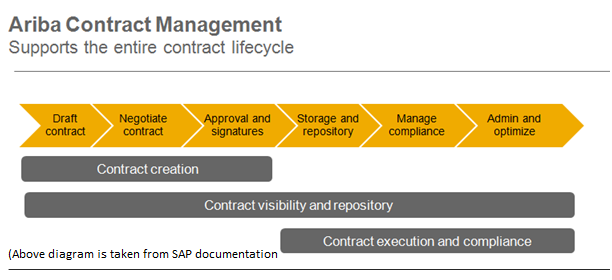 Automates the contract creation cycle, from draft to reviews and approvals
Contract authoring tools, including clause libraries and conditional templates
Creates a contract repository with access-controlled search and reporting
Audit trail for internal and external and regulatory requirements
Deep, bidirectional integration within the source-to-contract process
Expiry notification for improved renewal management
Centralized electronic task-driven notification alerts
Rapid time to value with on-demand deployment
Microsoft Word integration
Integration to leading eSignature providers – DocuSign and Adobe EchoSign
Solution Capabilities:
Creation and Supplier Collaboration

Organizations can handle every aspect of the supplier lifecycle with supplier information and performance management software. The on-demand software provides a central, network-enabled platform for accessing supplier profiles and for assessing supplier performance using measurable indicators and prepackaged reports and dashboards. Network-driven intelligence combined with integrated spend management functionality provides everything you need for peak supply chain performance.

Creation and Supplier Collaboration

Categorize all sourcing processes into a hierarchy of projects, teams, milestones, and approval rules with the SAP Ariba Sourcing solution.
Utilise flexible process management capabilities and enhanced workflow for improved collaboration between stakeholders.
Maximise ROI through integration with other strategic sourcing software.

Sourcing

The Ariba Sourcing solution integrates patented "request for" (RFX) technology, process workflows, commodity intelligence, and supplier discovery, resulting in a flexible, comprehensive sourcing solution that enables fast, sustainable, bottom-line results.

BOM, Workflow, and Syndication

Manage all spend types, including advanced direct materials, using a single solution

Support sourcing direct materials with the ability to integrate and calculate cost of bills of materials (BoM)

Offer multilevel BoM integration, workflow, and syndication capabilities

Import multilevel BoMs for executing the sourcing process at the item, subassembly, or final product levels

Operational Contract Management

Boost contract management services through more accurate, structured, and accessible master data with SAP S/4 HANA

Structure committed services more effectively with strong service contracts.

Facilitate consistency to ensure superior support and services.

Create, manage, and automate service contracts such as price agreements and conditions more effectively.

Source Assignments

Find, negotiate, and contract the most qualified and reliable suppliers

Collect, analyse, and access all sourcing-related information in one system.

Support automated and manual processes for managing contracts, source lists, purchase information records, quotations, and requests for quotations.

Purchasers gain the insights they need to engage with the right suppliers and get the best possible prices by streamlining and automating sourcing information and processes.
Contact INFOCUS team today at sales@infocus-in.com if you are interested to implement Collaborative Sourcing and Contract Management Solutions from SAP Ariba.